Awards
| | |
| --- | --- |
| Dr. B.R. Amberkar Trust | 1996 |
| Ideal Social Worker | 1997 |
| Rajiv Gandhi Vichar Manch | 1997 |
| Annabhau Sathe Award | 1998 |
| Ideal Social Worker | 2000 |
| Mahaveer Seva Purskar | 2000 |
| Namdev Ghadage Committee | 2001 |
| Dr. Moreshwar Agashe Trust | 2001 |
| Ekata Gaurav Puraskar | 2002 |
| Nagrajbhai Punamia Trust | 2002 |
| Ideal Social Work | 2006 |
| Laxmibai Dagadusheth Trust | 2007 |
| Gaurav Puraskar Manashakti kendra | 2009 |
Saraswati Anath Shikshan Ashram is fondly known as SASA
Ours is an Orphanage and destitute home based in the slum area of Dapodi which is based in the PCMC area of PUNE.
SASA was established in the year 1995 with just 5 children and it is hard to believe, that a person who was orphaned at the age of 12 did it above all without any help from friends and relatives……. there is abundant help available for those who have in abundance but no one helps those who don't have anything in this world.
The beginning is heart touching, the founder and one of his colleagues Ms. Pornima Kamble went from home to home literally begging and asking for food and clothing for the children. Those were the hardest days in the life of SASA.
Complete care is taken of orphans and destitute with outmost LOVE, CARE AND ALL OTHER NEEDS are fulfilled by PROFESSIONALS who have been appointed by SASA.
Today we are proudly providing shelter to 35 children with HOME, food, love, care affection and medical care most of all education is provided as per the requirement of the children staying in the orphanage.
MISSION :
"WE HAVE NOT INHERITED TODAY BUT BORROWED THE FUTURE FROM THE YOUNG GENERATION, AND IT IS OUR DUTY TO GIVE THEM BACK"
A child who is orphan and destitute is a stigma to the society, the child is isolated and exploited in every sense, the society always take undue advantage of such children not only in INDIA but everywhere in the world, WE INDUCT THEM IN SARASWATI ANATH SHIKSHAN SANSTHA AND ALWAYS STRIVE FOR THEIR BETTER FUTURE ……. (SASA) not only takes those kids under its care but provide the most secure and healthy environment for them to be IDEAL CITIZENS.
We induct the Orphans and Destitute under our care and give them HOME at Sararawati Anath Shikshan Ashram (SASA), until they are independent and become IDEAL CITIZENS.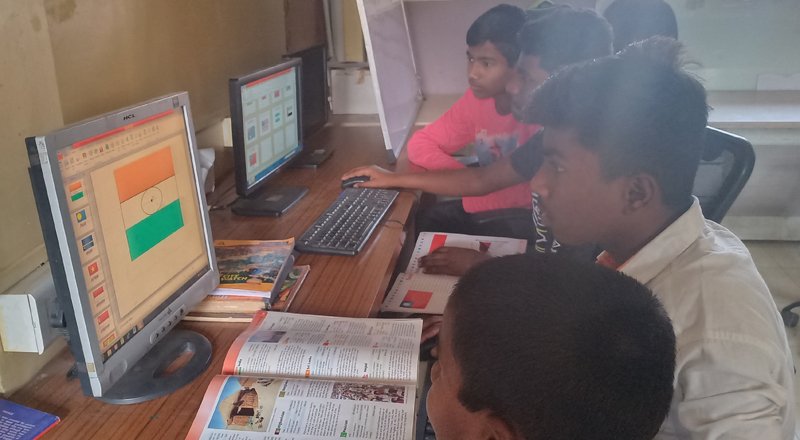 OUR VISION :
SASA'S broadened vision other than just being an orphanage is always to work for the community which is deprived and specifically living in the slum area
Starting a computer training center providing the necessary skills to the deprived class youth and women in the slum community.

Establishment of the library and coaching classes for youth appearing for competitive examination in Administrative services and other Government Examinations.

Entrepreneurship development training program especially for women who are underprivileged, along with providing with vocational training to make them self reliant.

Starting a school from nursery for the slum children to give them a head start in education and instilling love for the same.

The most important part of our vision is to start an old age home, as this is the most neglected group.

To start a separate girls and boys hostel with complete infrastructure.